How does Minnesota Contract for deed Financing Work?
* The first step is how much does the home buyer need to put down?
That answer can very. Reason to that is if we use and investor they may want any where from 10% to 20% down.
They also charge a fee of 4% to 10% of the sale price of the house.
* Where can you purchase a home? The investors state they will do it anywhere in Minnesota.
Some investors let you buy which pole building so only 1 to 2 buildings on the property.
We have one investor who with do a 7 county metro area Contract for deed financing.
The counties below you can find all types of housing!
* Anoka County
This cd financing has a 4% to 8% up charge fee.
The other investor will do any price and location in Minnesota with 15% to 20% down with a 10% up charge.
* The buyer can purchase any home even New construction-Lake properties.
The investors usually want a small application filled out and tax returns.
Things that don't matter.
* Usually credit is not an issue. They may check on debt to income ratios. See below for properties with out this.
* A credit report.
* pay stub.
Now we also work with sellers directly looking to finance their property on a contract for deed in Minnesota and a land contract in Wisconsin.
Don't be worried we have properties all over Minnesota with sellers offering contract for deed housing. Those are generally cheaper as far as there is no up charge like investors.
* The terms can vary but typically they charge 10% down for 3-5 years.
* Buyers can be self employed
* short sale
* Bankruptcy
* Need a quick closing if the house is vacant we can close in 7 days.
This link we bring you to everything you will ever want to know about financing.
Contract for Deed Financing Tips
Search Contract for deed listings at these sites. 100% contract for deed-rent to own.
Benefits of buying a property on a contract for deed
No loan qualifying, low or flexible down payment, favorable interest rates and flexible terms, and a quicker settlement
Drawbacks of selling a home on a contract for deed
One disadvantage of a contract for deed to the seller is that clearing the title may take time and money if the buyer defaults on the contract. But the seller gets to keep the down payment and any payments made during the contract.
or minnesotahomescontractfordeed.com
If you are ready to move forward and buy or sell a property please click on our email on the top of the page or call us anytime thank you.
Below is Contract for deed form that must be filled when buying or selling a home in Minnesota on a contract for deed. Contract for deed forms made by Mn commerce department is supported by the Mn realtor Associations.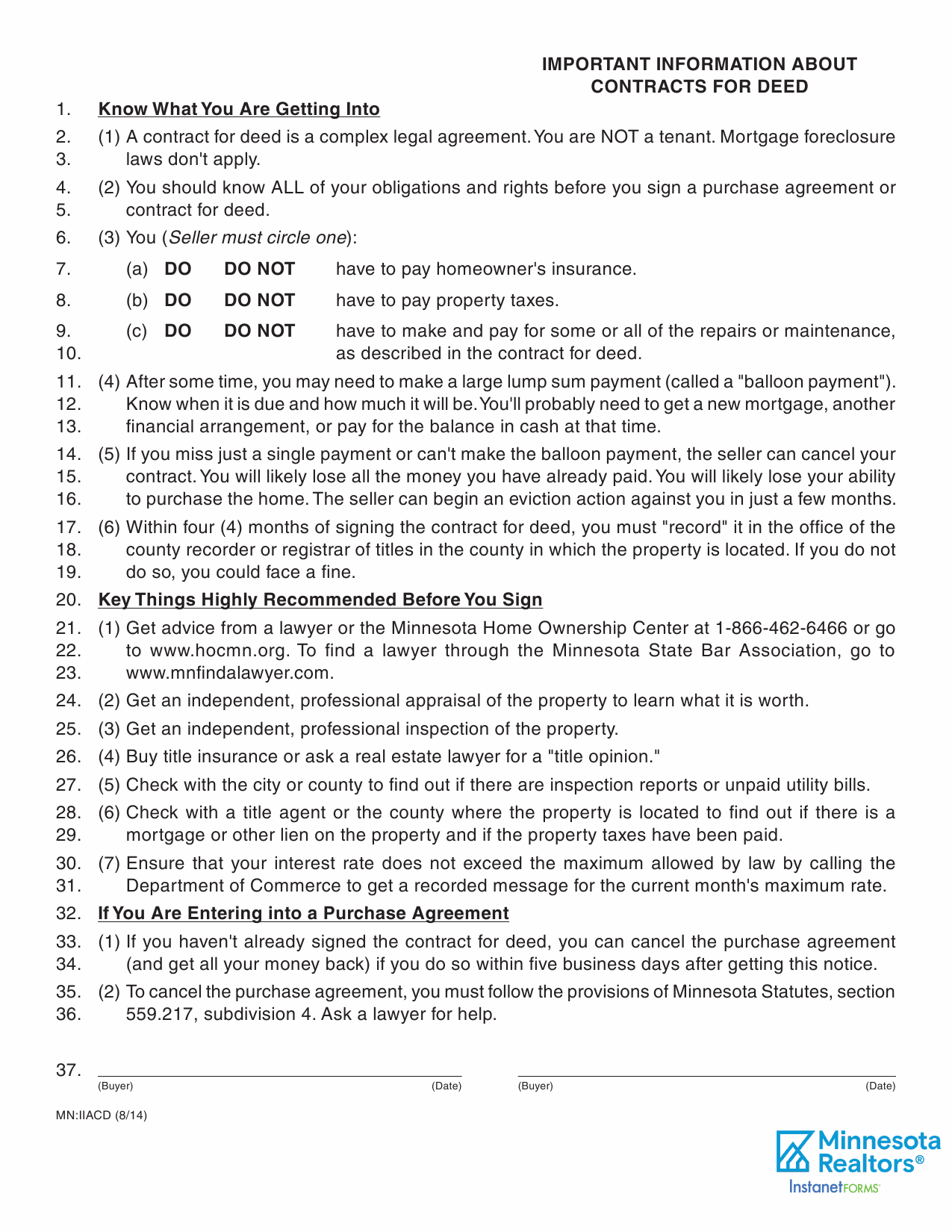 Contract for deed purchase  agreement Minnesota department of commerce.